Meet Steve!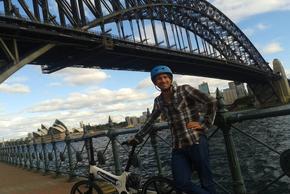 I'm Steve, the Director of Cycle Cities.
I started Cycle Cities because I'm a passionate traveller.
I love big cities. I've always gravitated towards them. While I love a bit of nature (Scottish highlands are my top pick for that), I'm a connoisseur of a great city.
I spent a lot of my childhood in Sydney (2 hours south of where I grew up, Newcastle), and never found it too daunting or big. I liked going there. I liked the fact that you never had to visit the same place twice if you didn't want to. There's so much to explore. By 19, Sydney Brisbane and Melbourne were not big enough for me and the US was calling. I fell in love with San Francisco, Vegas and LA. At 23 I moved to London for the first time, unbeknownst to me at the time that it would become my home for the longer term.
Access to Europe was a big thing for me. My first weekend break was Munich, and there I saw a large group taking a bike tour around the city centre. I put that idea on my list. A month later I was cruising around Berlin on one as a tourist (My tour guide that day now owns the company and is one of my biggest competitors (hats off to him for inspiring me!). Citybreaks and Europe trips abounded on the following years. Amsterdam, Warsaw, Paris, Madrid, Rome, Zagreb, Sarajevo. You name it, if it's a big city in Europe, I've probably been there.
In 2009 I got a job as a Tour Guide at the London Bicycle Tour Company. I know what it's like to be a customer, and a guide, and I got a great feel for how to create and deliver the best guided bike tours. I moved into the business/sales side of London Bicycle tour company, and focussed on growing and managing the business as the second in charge below the owner, Rob Graham.
I started Cycle-cities.com with Rob a year later, as I had always been interested in territorial 'travel' alliances. Airlines have partner airlines in different destinations to help cross sell flights. Some tour operators had branches in different cities so that a happy traveller could go from city to city and continue to experience tours from the same company. I thought city bike tours could use this 'international' presence. Since then we've grown to a collection of 40 cities in dozens of different countries across three continents.
In the coming years I spent a lot of time in North America, working as a professional songwriter (originalsongwriter.com) and travelling coast to coast, experiencing the best of New York, Chicago, Dallas, Vancouver, Detroit and LA many times over.
In 2015 I started to organise yearly 'Powwow's' or 'Symposiums' for Cycle Cities partner companies to attend, in a different city each year. These conferences connected us all as a stronger network and continue to be successful. At the time of writing we have hosted three symposiums in 5 different cities (Berlin, London, Nice, Budapest and Munich), and are looking forward to 2020 in Athens!
cycle-cities.com was rebranded cyclecities.tours in 2016 as we focussed more on the guided tours market, and optimised our website for it's appeal to the audience that was looking for exactly that.
I tour the UK in a Take That tribute band as well – I love to experience life, and I'm never bored. I'm never wasting time, and am always making connections with people all over the world.
I love travel, business, cycling, music, life, love and good red wine.
Now it's my turn to show you the world.
I hope you enjoy your time at cyclecities.tours. Here you'll find the world's best bike tours, many of them hand picked by me.
Steve Kopandy
Cyclist, Singer, Cityboy.
cyclecities.tours